Click here to see our General Calendar!!!
| | | |
| --- | --- | --- |
| | | |
| Date | | |
| | | |
| | | |
| | | |
| | | |
| | | |
| | | |
Hear the Newyorkers sing at Dutchess County Legislature! June 16th meeting. Start at minute 20.
Older Notices
The Footlighters Quartet is delighted to announce that, effective immediately, Mr. J. Breck Martyn has joined the quartet to sing Baritone. Breck is a long-time barbershopper and quartet man and a fine musician. He brings a wealth of show and competition experience to the quartet, as well as great energy and personality.
Breck sang with and directed the world-renowned Colgate Thirteen choral group in his college days. He joined the Barbershop Harmony Society (then known as SPEBSQSA) in 1976, with the Poughkeepsie, New York Chapter and remains a Chapter member. He has directed the Newyorkers Chorus and has served in many administrative and Annual Show capacities. He has sung, variously, Lead, Tenor, and Baritone with four quartets: Four Guys From Poughkeepsie, Sound Edition, Entertainment Tonite, and Rave Revue. With Entertainment Tonite, he was a quarter-finalist at the 1988 International Quartet Competition held in San Antonio, Texas. With Rave Revue, he won the Northeastern District Quartet Championship in 1991 and ranked as a quarter-finalist at the 1995 International Quartet Competition in Miami, Florida.
Breck lives in Poughkeepsie with his wife Terri. He joins veteran Footlighters Ron Pierson (Tenor), Jack Ostmark (Lead), and Bud Fair (Bass), all also members of the Poughkeepsie Chapter. The quartet is working on new repertoire material, and is planning a re-entry into competition in 2011.
Sheet music and MP3 learning materials for America the Beautiful and Battle Hymn of the Republic has been distributed to all active singing members.
2009 District Contest Photo Now Available
Print your own -- scroll down past our performance schedule
Contact Eric Dickstein if you need music for any part
Print Photo Quality - 2009 District Contest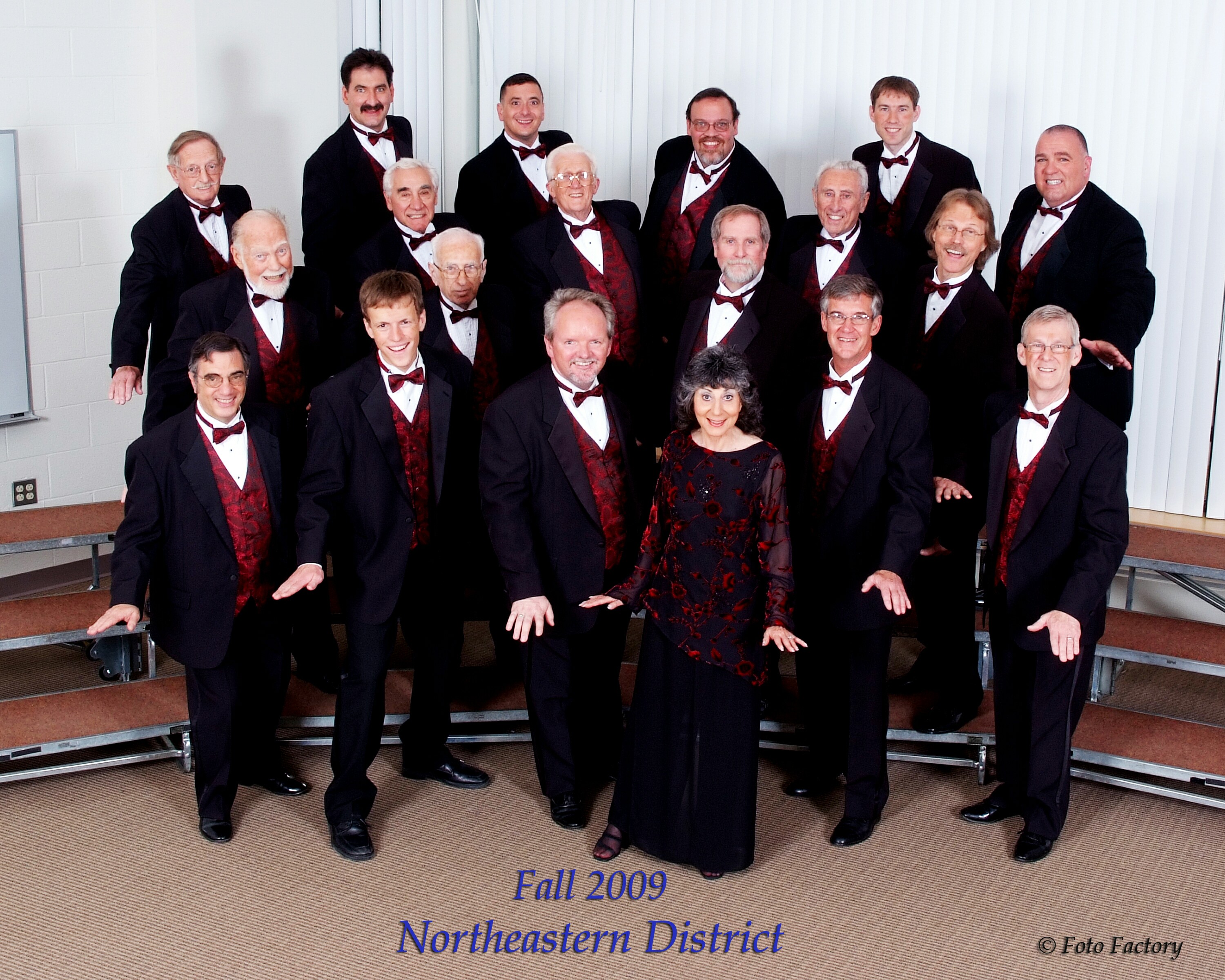 Click On The Picture, Print the picture that opens up in the new window
Stage_Presence_for_Just_In_Time (Microsoft Word)

2017 Board of Directors Elected Nov-2016
Office ------------------ Elected
President---------------- Open
Secretary---------------- Stephen Miller
Treasurer---------------- Ernie Strauss
VP Chapter Development--- Laurence Rand - Frank Ruggiero
VP Marketing & PR-------- Rick Greenop
VP Music & Performance--- Mike Monkowski
Members At Large--------- Eric Dickstein
Bob Rich
Immediate Past President- William Standish
Chapter Delegate--------- Steve Miller
Chorus Director---------- John Hadigan
Chorus Manager----------- Mike Monkowski
===================================================
Performance List

(Ab) All I Have To Do Is Dream
(C ) America the Beautiful
(F ) Bare Necessities
(A ) Battle Hymn of the Republic
(F ) Breaking Up Is Hard To Do
(Ab) Bye Bye Love
(F ) Darkness on the Delta (Polecat II, Pg 15)
(G ) God Bless America
(Bb) Happy Birthday
(Eb) I Believe (Arranged by Bob Haeger)
(Ab) In My Room
(F ) Irish Blessing (Free 'n Easy)
(Ab) It's A Good Day
(Eb) Keep the Whole World Singing (Free 'n Easy, learning tracks too)
(Bb) Sentimental Journey
(A ) Star Spangled Banner
(D ) Take Me Out To The Ball Game
(Eb) That Railroad Rag
(Eb) When I Fall In Love
(C ) Zip A Dee Doo Dah

Barberpole Cats/Singing Valentines/Etc.
(Bb) Coney Island Baby (Polecat II, Pg 30)
(Bb) Down Our Way (Barberpole Cat, Pg 8)
(Ab) Heart of My Heart (Story of the Rose) (Barberpole Cat, Pg 14)
(Bb) Hello Mary Lou (Polecat II, Pg 34)
(Bb) Honey--Little 'Lize Medley (Barberpole Cat, Pg 9))
(Ab) I Love You Truly (Free 'n Easy)
(Bb) Let Me Call You Sweetheart (Barberpole Cat, Pg 10)
(F ) Lida Rose (Polecat II, Pg 49)
(Bb) My Wild Irish Rose (Barberpole Cat, Pg 3)
(Bb) Shine On Me (Barberpole Cat, Pg 13)
(Bb) (You're the Flower of my Heart) Sweet Adeline (Barberpole Cat, Pg 15)
(F ) Sweet and Lovely (Barberpole Cat, Pg 6)
(Bb) The Old Songs (Free 'n Easy, learning tracks too)
(Ab) Wait Till The Sun Shines, Nellie (Barberpole Cat, Pg 4)
(C ) You're As Welcome As The Flowers In May (Just Plain Barbershop, Pg 12)
Holiday Music
(F ) Angels We Have Heard On High
(F ) Deck The Halls
(Ab /G ) Hark! The Herald Angels Sing
(Eb) White Christmas
(Ab) O Holy Night
(Ab) Jingle Bells
(Ab) O Come All Ye Faithful
(B ) It Came Upon The Midnight Clear
(B ) Silent Night
(Bb) We Wish You A Merry Christmas